The Exness Trader app is your one-size fits all mobile terminal that works directly with your Exness trading account. Not only does it let you trade on the go, but it also gives you account management features wherever you are.
If you are experiencing issues with Exness Trader, we have a selection of common topics that may help you. If this article isn't able to answer your questions, please do not hesitate to contact

Support

for assistance.
Before attempting to troubleshoot, please make sure to update the Exness Trader app to the latest version; only iOS version 14.4 or later is supported.
Common topics:
Why can't I log in?
Please make sure that your Exness account credentials are entered into the app correctly. Keep in mind you need your Exness account registered email address and account password, not your Exness trading account credentials.
If you'd like to reset your account credentials to successfully login, follow these steps: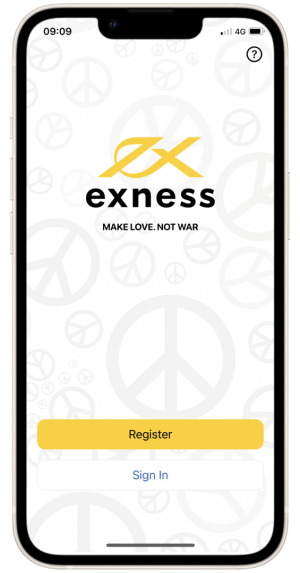 Open the Exness Trader app.

Choose

Sign In

.

Tap

I forgot my password

.

Enter your

registered email address

and complete the Captcha security requirements.

Enter the

confirmation code

sent to your chosen security type.

Tap

Confirm

to proceed to change your Exness account credentials.

You can now log in with your new credentials.
Reset Passcode
When you sign in with your account, you may be prompted to set or enter a passcode (6-digit PIN number). This passcode is linked to one Personal Area/Account.
If you log in using a different Personal Area/Account, you will not be able to log in.
To reset this passcode: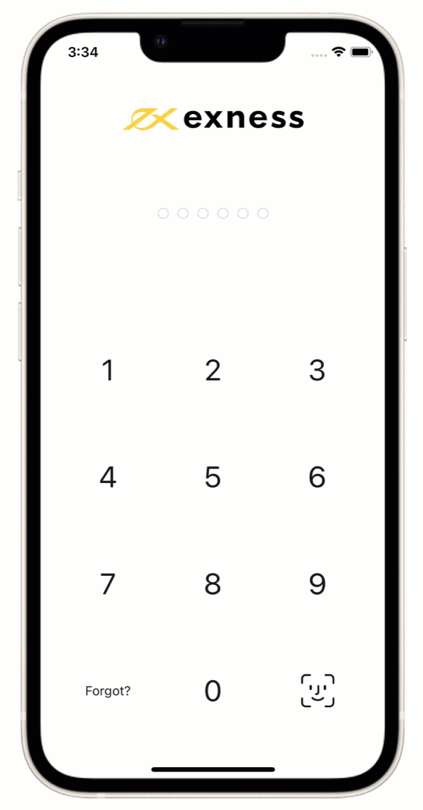 Start up Exness Trader.
Tap Forgot? from the passcode entry screen.
Tap OK to confirm the action.

Choose

Sign in

and set a new passcode to continue.
Why can't I find the Trade icon under my account?
If you have set your default trading platform to Exness on the Exness Trader app, you will not see the Trade icon under your account on the Accounts tab.
To place a trade: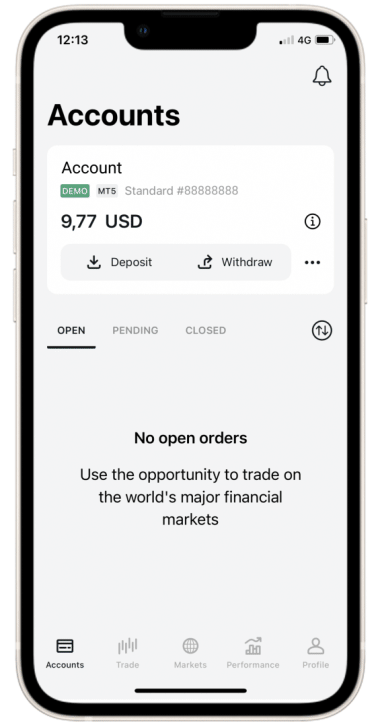 Head to the

Trade

tab at the bottom of the screen.

Select an instrument you'd like to trade on.

Tap on the

Sell

or

Buy

button.

Set up the trading volume in the window displayed.

Check the displayed margin and make sure there are enough funds to open the trade.

Tap on the Confirm Buy

or

Confirm Sell to open a trade.
a. To set up a pending order

, refer to

Order Settings

.
To learn more about customizing your account settings on the Exness Trader app, follow this link.
Why can't I see trading instruments?
A common reason for this would be an unstable internet connection, which will leave blank spots where trading instruments would normally be displayed.
Find and connect to strong coverage, such as a direct Wi-Fi connection and refresh the app by logging out and logging back in.
Find a specific instrument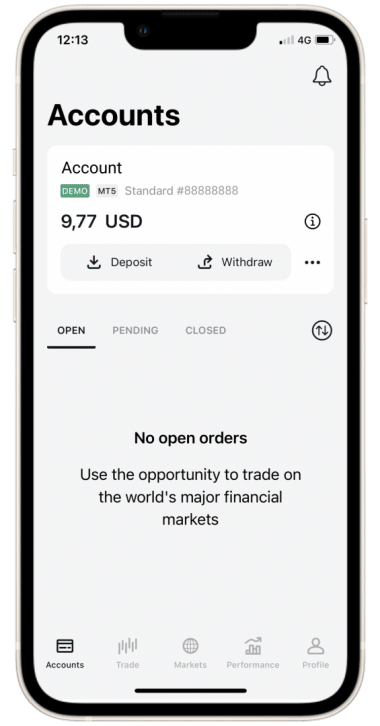 If you're looking for a specific trading instrument but it is not displayed conveniently, here are the steps to find it and add it to your Favorites.
On the Exness Trader app, head to the

Trade

tab.

Tap on the

Magnifying Glass

icon beside the

Favorites

field.

Enter the instrument name or code.

Tap on the card to bring up the full instrument details.

Next, tap on the Star

icon to add it to your Favorites.
Similarly, to remove an instrument from your favorites list, simply tap again on the star icon to remove.
To set up push notifications for your favorite instruments, read this article to learn how.
Why is my trading terminal set to Exness?
By default, the trading terminal will be set to Exness when you install, reinstall or update your Exness Trader app. To change to your preferred trading terminals such as Exness, Built-in MetaTrader 5 or MetaTrader 5, follow these steps: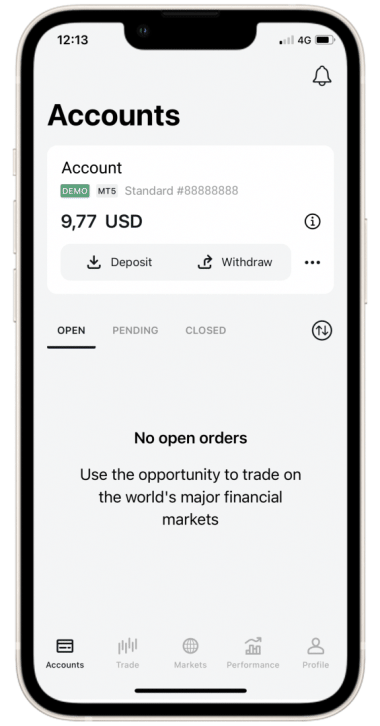 On your main screen, head to the

Profile

tab.

On the

Profile

page, tap on the settings icon on the top right corner of the screen.

Under preferences, tap on

Trading Terminal

.

You will then see the available trading terminals you can choose from:

Exness

- Choosing this will mean you will use the Exness terminal on the mobile application for trading.

Built-in MetaTrader 5

- If you choose this, you will be able to use the built-in MT5 without leaving the Exness Trader app.

MetaTrader 5 App

- Choosing this will mean that you will be taken to the MT5 app to trade. Thus, if you choose this, you need to ensure that you have the MT5 app installed on your phone.

Select your preferred trading terminal
Note: All the above-mentioned options are only available for trading in MT5 accounts. If you wish to trade on MT4 accounts, you will need to install the MT4 app. The system will then automatically redirect you to the MT4 app when you click Trade.
Why haven't I received my verification code?
Take note of your chosen security type for your Personal Area. In the case that your security type is set to email, your verification codes will be sent to your registered email address regardless of when the Exness Trader app displays the message "Enter the code we sent to your phone".
To check this: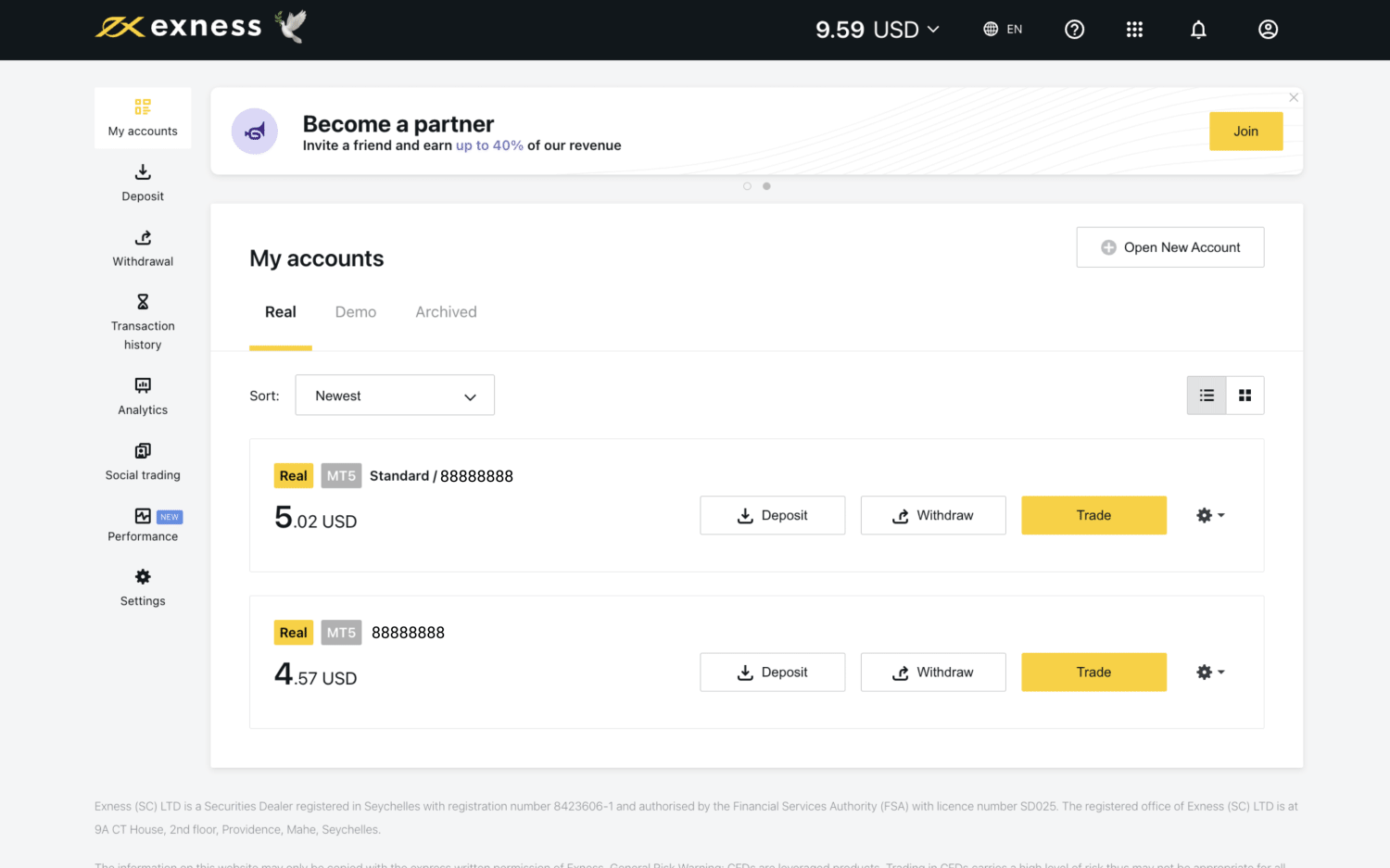 Log into your Personal Area.
Choose Settings from the main menu, and then navigate to the Security Settings tab.
You will see the active Security Type for your account.
If your security type was set to Phone and you still did not receive the verification codes from Exness Trader, please contact Support for assistance.


Why can't I find Exness Trader app in Apple App Store or Google Play Store?



If you're unable to find the Exness Trader app in the Apple App or Google Play Store, it is possible we, unfortunately, do not accept clients from your country of residence.
For more information about this, click here for the list of countries Exness does not accept clients from.
If your issue is not listed here or not adequately solved, please suggest the topic so that we may add it to this page, or contact Customer Support for further assistance.