Exness Premier is a loyalty program that rewards our most active and loyal Exness Premier members with a range of exclusive benefits that grow as they qualify for bigger and more prestigious membership tiers.
Benefits
PressReader
Tiers
Qualification criteria
Quarterly Qualification
Eligible countries
Your Premier status
Benefits
How does Exness Premier benefit me?
Exness Premier recognizes and rewards active and loyal members with exclusive rewards and priority support from our team of expert account managers.
We want you to succeed trading with Exness, and experience the convenience of award-winning support. We take your feedback sincerely and act to ensure your satisfaction.
As an Exness Premier member, you are our highest priority. For further information, you can visit our Exness Premier homepage to discover more about the exclusive privileges you will earn as an Exness Premier member.
Good to know: Exness Premier benefits and rewards may vary depending on region and are not refundable or exchangeable for cash. Whether provided by Exness or a third party, these benefits cannot be bought, sold, bartered, or transferred.
PressReader
Exclusive subscription to PressReader
Exness Premier also boasts a free and exclusive limited-time subscription to PressReader for all Premier Signature and Elite members. It is a digital newspaper distribution that features over 7000 newspapers and articles across more than 60 languages.
Exness Premier members that qualify for this benefit will receive a link to claim their free subscription via their Exness account registered email address.
Signing up to PressReader:
Check your Exness account registered email for mail about your exclusive PressReader subscription.
Click the link provided in the email which will take you to the PressReader landing page.
Follow the on-screen instructions to create a PressReader account and/or claim your free subscription period.
To maximize your subscription to PressReader, here are a few tips:
Listen to the article

Keeping up on your reading can be a challenge when you're always on the move, but PressReader provides text-to-speech options so that you can listen to any article on the platform. Here's how to enable text-to-speech for PressReader.

Read in your preferred language
News how you want it

Customize your PressReader feed however you see fit, with a robust presentation of settings that can filter articles and topics to your preferences. Read more about how to personalize PressReader for you.
PressReader support
If you try to download any content and are asked to make a purchase, then your account may not have connected with the free subscription properly. Please contact care@pressreader.com for assistance from the PressReader Customer and Partner Care team.
Note: For more PressReader user guides, visit the PressReader Help Center for more.
Tiers
Exness Premier Tiers
Premier Preferred
This is the beginning of your Exness Premier journey, and you will be introduced to a variety of exclusive benefits and rewards which include priority customer support, informative educational resources, expert trading analysis, and special promotions.
Premier Elite
Premier Elite provides all the benefits of Premier Preferred, but additionally, you receive personalized and priority assistance from a dedicated account manager.
Premier Signature
Premier Signature is the most prestigious Exness Premier tier, presenting truly world-class networking opportunities with direct access to our C-suite executives, and exclusive trading conditions. Of course, the Premier Signature membership includes all of the features and benefits of previous tiers.
Qualification criteria
How to qualify for the Exness Premier Program?
In order to qualify for the program, you must at least meet these requirements:
Your Personal Area (PA) must have been created over 30 days ago.
The total lifetime deposit of your account should be more than USD 15 000.
The total lifetime trading volume should be above USD 40 million.
Each Exness Premier tier has unique requirements for the total lifetime deposits and the trading volume per quarter, and both criteria must be met to qualify in all countries Exness operates in except China, Taiwan, Hong Kong, and Macao.
| | | | |
| --- | --- | --- | --- |
| Premier tier | Premier Preferred | Premier Elite | Premier Signature |
| Total lifetime deposits | USD 20 000 | USD 50 000 | USD 100 000 |
| Trading volume per quarter | USD 50 million | USD 100 million | USD 200 million |
Only external deposits qualify towards the lifetime deposit criteria and internal transfers will not be considered.
Social Trading deposits and trading volume of open and closed orders from the Investors are included in the qualification calculations.
The qualification calculations will exclude trading volume from Portfolio Managers and Investors, as well as Investor deposits.
Quarterly Qualification
Exness Premier tier qualification is calculated by the criteria every quarter of a calendar year, with the exact process explained in greater detail below:
Q1: Trading volume is tracked between 1 Jan - 31 Mar, including total lifetime deposit.
Q2: If your account qualifies, it is assigned the Exness Premier tier for 1 Apr - 30 Jun.
Trading volume is still tracked between 1 Apr - 30 Jun, including total lifetime deposit.
Q3: If your account qualifies for an upgrade, it is assigned the appropriate Exness Premier tier for 1 Jul - 30 Sep, otherwise it stays at the same Exness Premier Tier.
Trading volume is still tracked between 1 Jul - 30 Sep, including total lifetime deposit.
Q4: The process repeats, and your account is assigned the appropriate Exness Premier tier for 1 Oct - 31 Dec. Trading volume is tracked between 1 Oct - 31 Dec, including total lifetime deposit.
Thereafter this process is repeated each quarter as outlined above.
Trading volume calculation
Trading volume is tracked quarterly and is calculated as a sum of all open and all closed orders during the current quarter (in both directions of the order).
Points to note:
If the client has opened and closed an order in the current quarter, then we count the volume of opening and closing.
If the client opened an order in the last quarter and closed it this quarter, then we only count the volume of closing.
If the client opens an order in the current quarter and closes it in the next, then we only count the volume of the opening.
Note: It is not possible to have multiple Premier memberships. The highest Premier tier is applied to all accounts should you qualify for multiple Premier tiers across different Personal Areas. If you do not want to participate in the Exness Premier program, please email premier@exness.com to cancel your membership, and read our terms and conditions for more.
Eligible countries
Exness Premier is available in most of the countries where Exness operates. If your region is listed below, you can join the Exness Premier program:
Asia: Afghanistan, Bahrain, Bangladesh, Brunei Darussalam, Cambodia, India, Indonesia, Jordan, South Korea, Kuwait, Laos, Lebanon, Maldives, Nepal, Oman, Pakistan, Philippines, Qatar, Saudi Arabia, Singapore, Sri Lanka, Turkey, United Arab Emirates, Vietnam, Thailand.
Africa: Algeria, Angola, Benin, Botswana, Burkina Faso, Burundi, Cameroon, Cabo Verde, Central African Republic, Chad, Comoros, Republic of the Congo, Democratic Republic of the Congo, Côte d'Ivoire, Djibouti, Equatorial Guinea, Egypt, Eritrea, Eswatini, Ethiopia, Gabon, The Gambia, Ghana, Guinea, Guinea-Bissau, Kenya, Lesotho, Liberia, Libya, Madagascar, Malawi, Mali, Mauritania, Mayotte, Morocco, Mozambique, Namibia, Niger, Nigeria, Rwanda, Sao Tome and Principe, Senegal, Seychelles, Sierra Leone, Somalia, South Africa, Tanzania, Togo, Tunisia, Uganda, Western Sahara, Zambia, and Zimbabwe.
North/Central America: Anguilla, Belize, El Salvador, Panama, Jamaica, Bahamas, Barbados, Costa Rica, Dominica, Dominican Republic, Nicaragua, Guatemala, Haiti, Honduras, Antigua and Barbuda, Bermuda, Cayman Islands, Grenada, Mexico, Montserrat, St. Kitts and Nevis, St. Lucia, St. Martin, St. Vincent and the Grenadines, Turks and Caicos Islands, Virgin Islands, Saba.
South America: Aruba, Brazil, Argentina, Bolivia, Chile, Colombia, Ecuador, French Guiana, Guyana, Paraguay, Peru, Trinidad and Tobago, Venezuela, Suriname, Bonaire, Sint Eustatius.
Check your Premier status
How do I check my Premier status?
You can view your Exness Premier status in your Personal Area (PA), Exness Trade app, and Social Trading app. Here's how:
In your PA: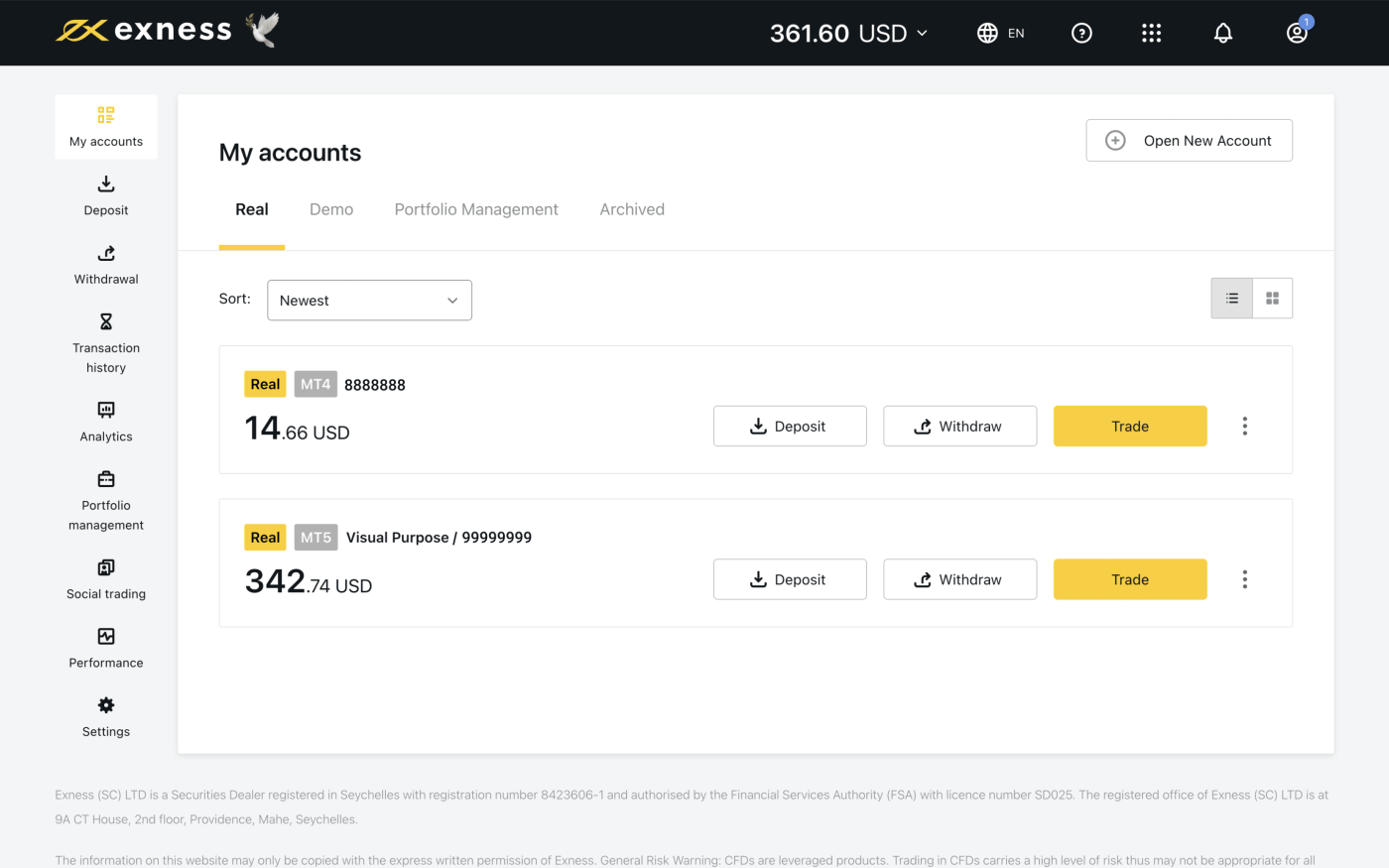 Log in to your PA.
Click the Profile icon in the top right corner.
Click on Exness Premier.
You can also click on Settings, and head to the Exness Premier tab.
In the Exness Trade app: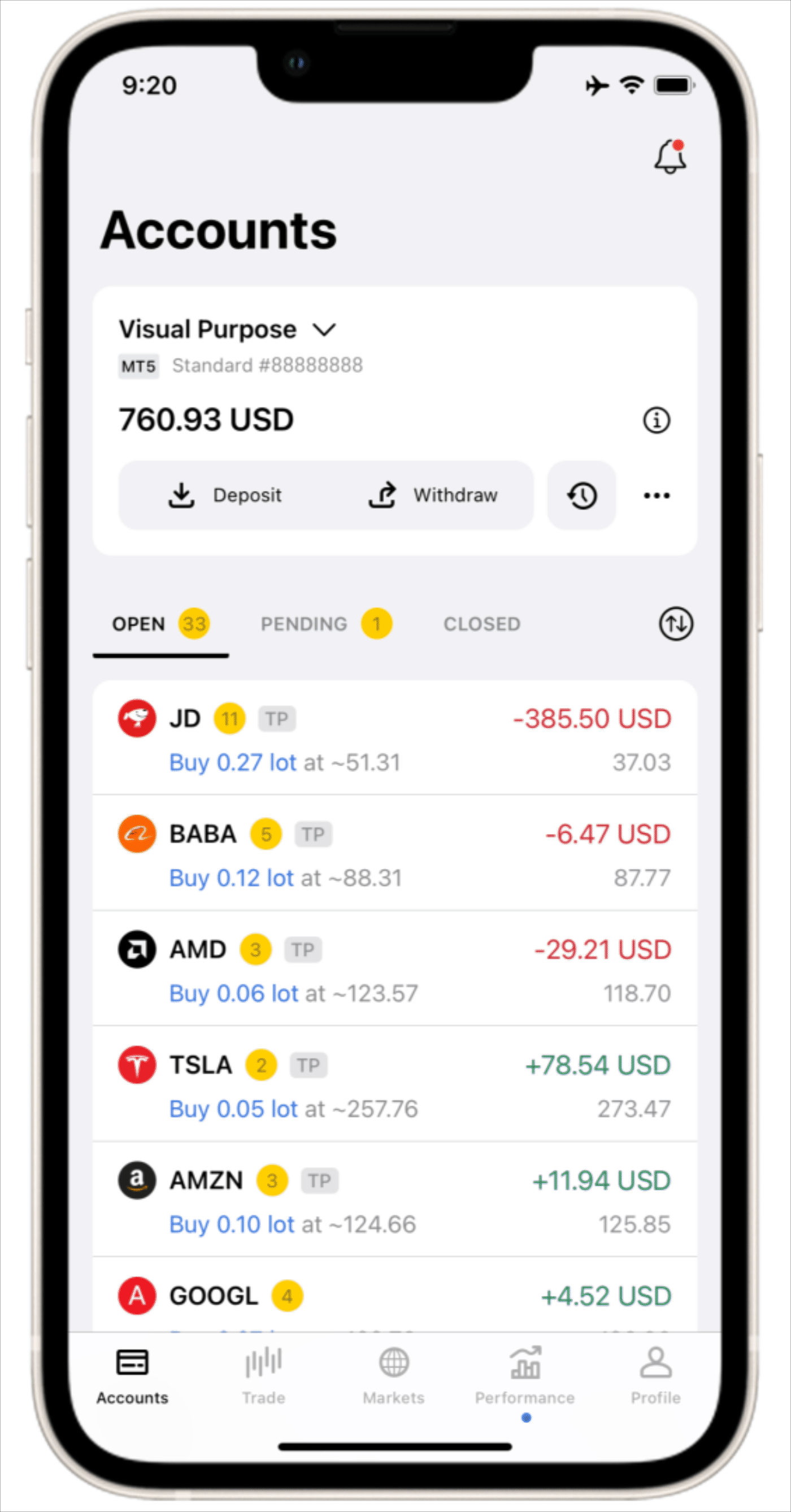 Log into the Exness Trade app.
Tap on the Profile tab.
Your Exness Premier status is displayed under Exness Premier.
In the Social Trading app: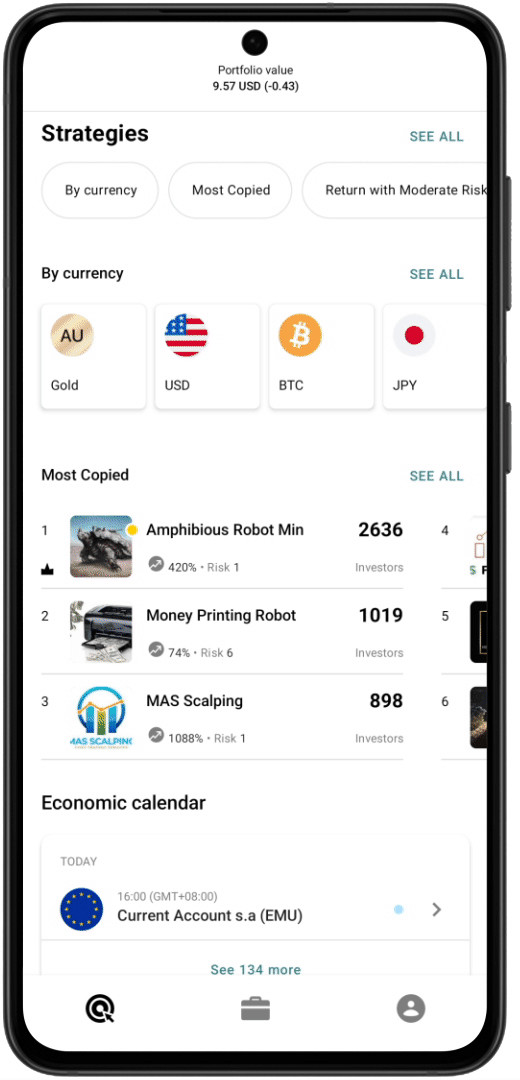 Log into the Social Trading app.
Tap on the Profile icon.
In the upper left corner, tap on your name.
Your Exness Premier status is displayed under Your Membership.
Note: If you are unable to view your Exness Premier status in the Profile menu or do not have the Exness Premier tab in the Settings area, you have not yet met the minimum requirements to become a potential Premier member.
For qualified clients, the Exness Premier status will include useful information, such as:
Current tier
Date of the beginning of next quarter
Link to premier benefits and rewards
Qualification criteria for achievable tiers
Link to Help Centre on how to upgrade to the next tier
Conversion tool to recalculate trading volume into lots of most traded instruments
For clients close to qualifying, the Exness Premier tab highlights the achievable Exness Premier status and useful information, such as:
Date of the membership assessment
Qualification criteria for the achievable tiers
Membership progress