A requote is a notification sent to traders from brokers informing them that the price they had requested is no longer available, and providing them a new price.
Let us look at requotes in detail:
What is a requote?
As stated earlier, a requote is a notification displayed on the screen of your trading terminal, informing you of a price change. This notification lasts for 3 seconds and if it is rejected or no action is taken, the order itself is cancelled.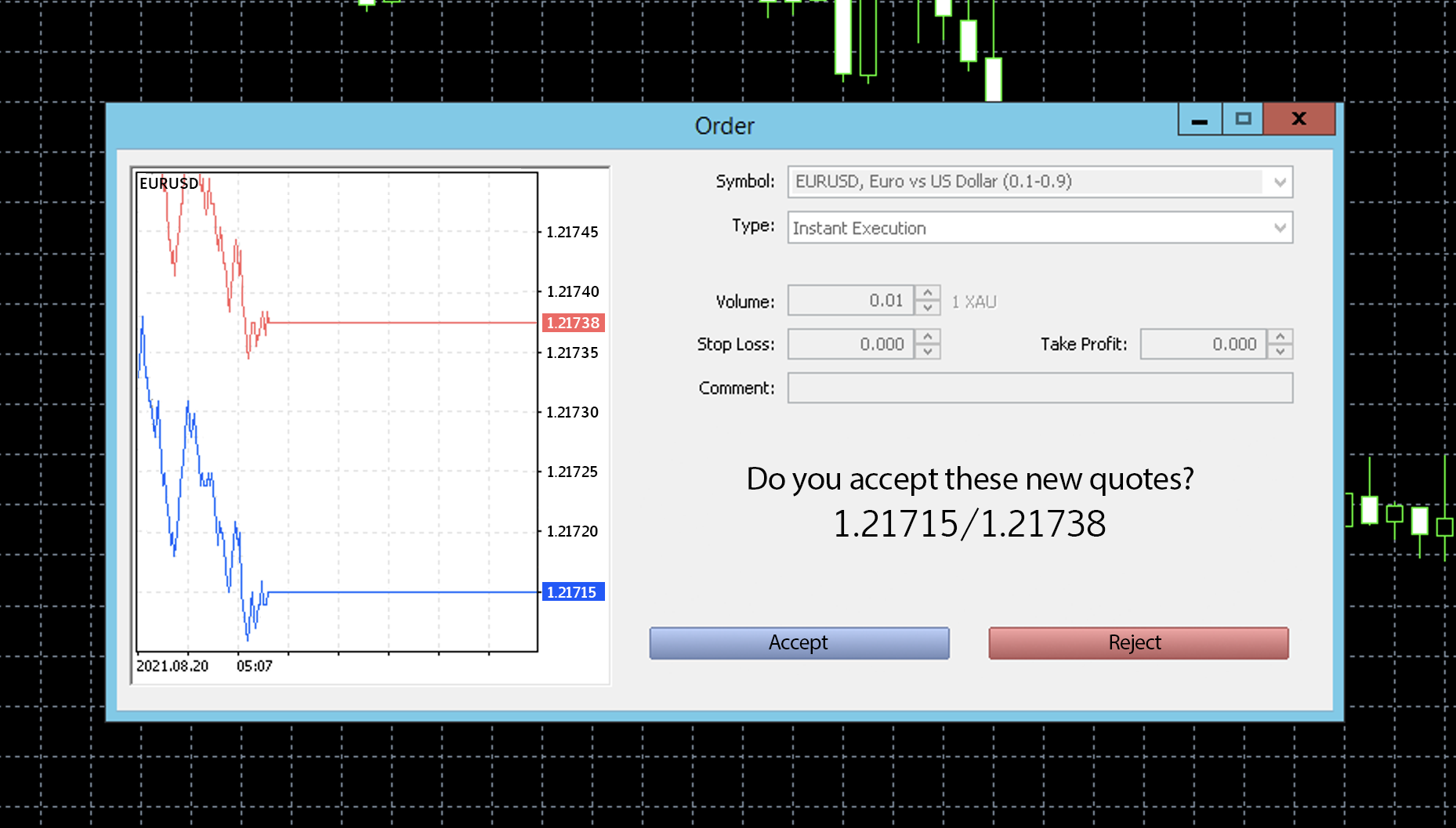 Why do requotes occur?
Requotes occur when there is a price change while a trader is trying to execute an order using instant execution. Instant execution means that the broker will execute a trader's order at the price requested, or not at all.
Thus, if there is a price change in the instrument, the broker informs the trader by displaying a notification that shows the new prices.
a. If the trader accepts the new price, the order is executed at the exact new price (unless the price has changed again in which case there will be another requote).
b. If the trader rejects the prices or takes no action, the requote will disappear after 2 seconds and the trade will be cancelled.
Let us look at an example to understand how this works:

A trader wishes to place a buy order for EURUSD in a Pro account which offers instant execution. When he clicks Buy in the trading platform, the prices are 1.21701/1.21727 but they quickly change to 1.21715/1.21738 once the trader clicks Buy. The trader will see a requote on the screen to confirm the newly changed price. This notification will last on the screen for 3 seconds; if accepted, the order will be executed at the new price (1.21738). If the requote is rejected or no action is taken, the order is cancelled.
How to avoid requotes
Here are a few tips on how to avoid requotes:
Check if you have poor internet connection or contact your internet service provider to fix it.
Use a VPS (Virtual Private Server).
Set maximum deviation in your order window.
Check your EA settings and make sure they are set correctly.
Avoid trading during highly volatile market conditions like market closing hours and during important news releases.
In the Market Watch window, hide symbols that are currently not in use.
Trade with market execution.
If you are still facing issues with requotes, please do not hesitate to contact our Support Team.