Exness wants to hear your ideas today, and it's easier than ever when you use the Exness Ideas Portal.
What is the Exness Ideas Portal?
The Exness Ideas Portal is a place where your ideas live and fuel innovations to improve our products and services.
These collectively-generated ideas will heighten the trading experience for our valued traders, i.e YOU.
Suggesting an Idea
Accessing the Exness Ideas Portal is done simply from your Personal Area; follow these steps to get started: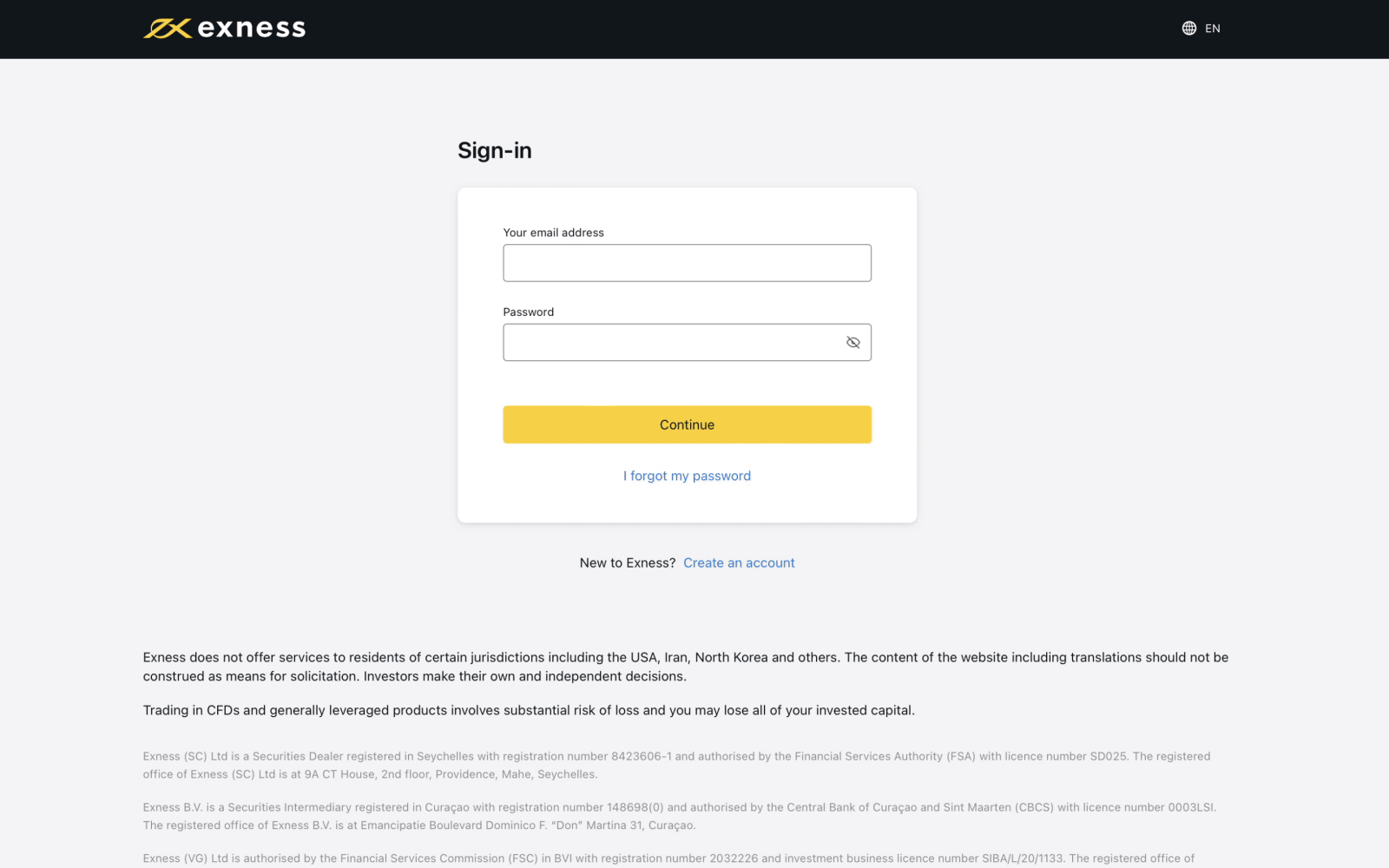 Log into your Personal Area.
Click the Help menu at the top of the page, then click Suggest a feature.
Type in your idea to suggest it (in any language) and then click Post Idea.
You can optionally choose a category that best fits your idea, go into greater detail to explain your idea, and attach supporting files (images, screenshots, documents etc).
Now that your idea is live, others on the Exness Ideas Portal will be able to vote it to the top!
Vote up: Click VOTE on any ideas you like to add your support for them.
The ideas with the most votes have a better chance of being implemented.
Translation Widget:
If you want to see a comment but it is presented in a different language, the translation widget can show the comment in your preferred language. You can easily toggle this feature on and off - give it a try!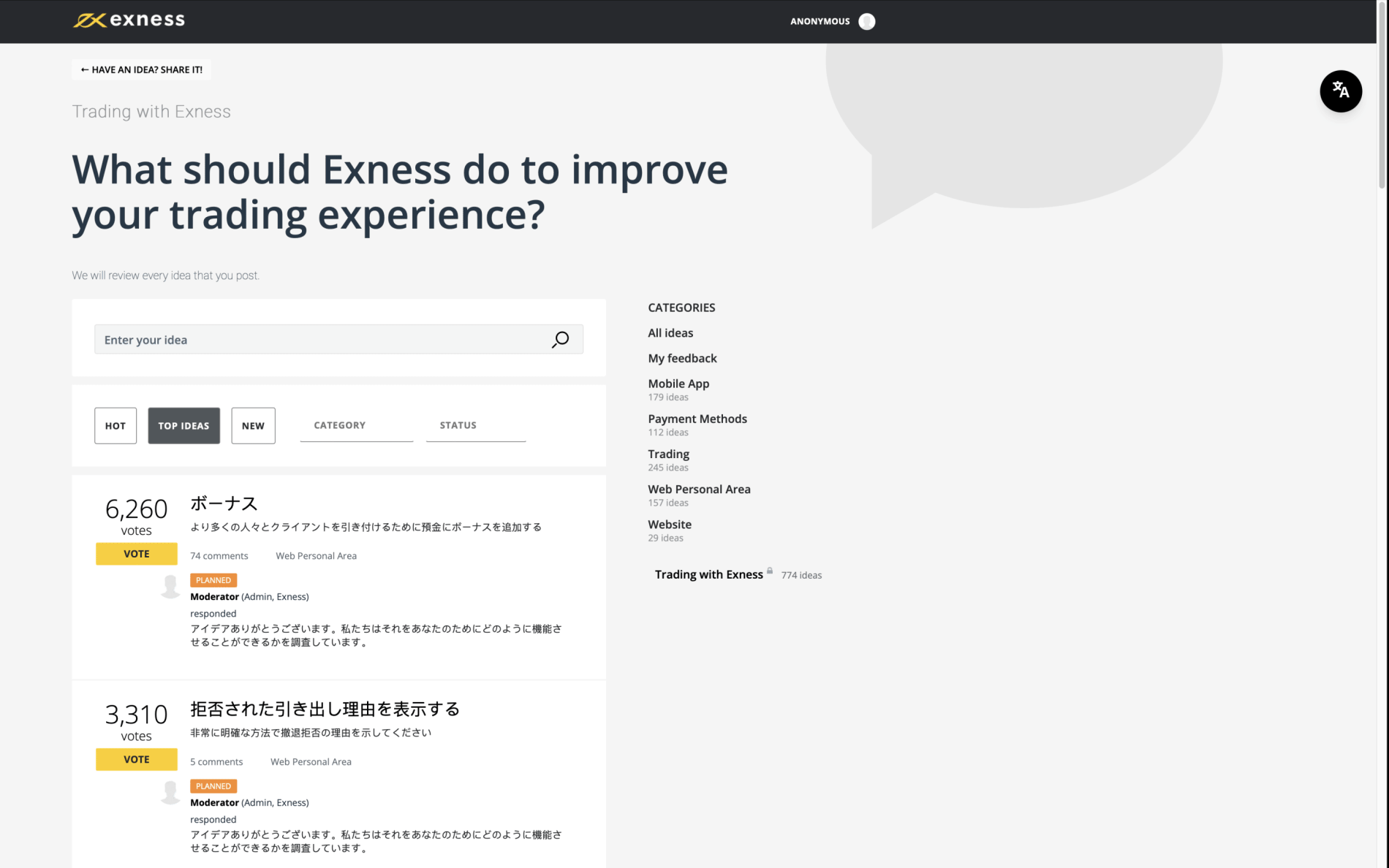 For a more detailed look at this widget, follow the link.
Browsing:
Browse among existing ideas sorted into categories which include, at least:
Mobile app
Social Trading*
Trading
Web Personal Area
Website
You can also sort ideas by Hot, Top Ideas, and New.
*Social trading is unavailable to clients registered with our Kenyan entity.
To comment on an idea:
Click on any of the listed ideas.
Leave a comment, then click Post Comment.
Be sure to review your comments before submitting, trying your best to be clear, concise, and constructive.
To find your existing ideas or change your settings:
From the Ideas Portal, click on your avatar to bring up a dropdown menu.
Click Settings to open a list of your submitted ideas, and to update your personal preferences.
Improving your ideas submission
Here are a few things to consider if you want your idea to stand out:
In other words, general ideas such as "Network improvements" don't say enough, but a more specific idea such as "Improve networks for traders using VPN" may give us enough information to start a discussion about the idea.
Moderators will not approve ideas that contain the personal information of yourself or anyone else.
Complaints about services and products that require action from support will not be considered the submission of an idea, and you will be redirected to our Support team for assistance.
Your idea should be unique so that it cannot be combined with an existing or highly voted idea. All similar ideas are combined with the highest voted idea of its type.
If you have multiple ideas, make multiple submissions. Collecting many ideas as one lowers the chances that any of them are seen, or that the idea itself is voted up.
And that's it, otherwise, we want to hear from you so don't hesitate; submit your ideas today!