Congratulations on starting your trading journey with Exness. Once you've registered and fully verified your account, it's time to start trading. This article will guide you through the steps to initiate your trading experience with Exness.
Make a deposit
Select a trading platform
Add trading instruments
Calculate margin
Check trading hours
Start trading
1. Make your first deposit
Your first deposit depends on the account type you have chosen, whether it's a Standard or Professional account. Read more about making your initial deposit before selecting the most suitable payment method.
How to make a deposit: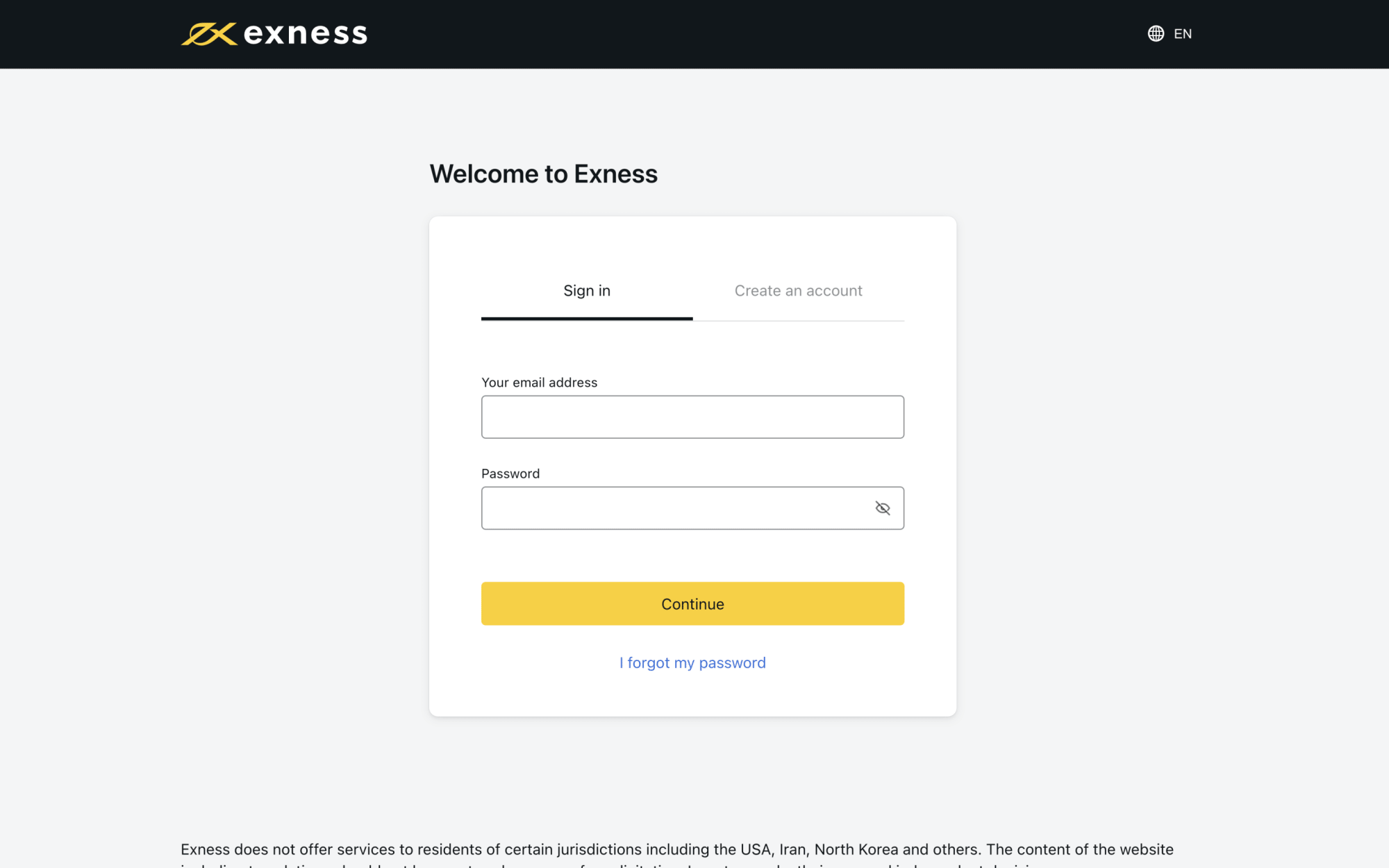 Log in to your Personal Area (PA).
Head to the Deposit tab.
Select your preferred payment method. 
Follow the following prompts to make your first time deposit. 
Note: Trading is disabled by default until the minimum deposit requirements are met. An error message displaying "Trade is Disabled", if you are trying to open a trade without making a deposit.
2. Select a trading platform
We offer various trading platforms for your convenience. Get to know the trading platforms and how they compare before choosing the one that suits you best.
These are the trading terminals we offer and how to log in to them:
Exness Trade App
Exness Terminal

Log in to your

Personal Area (PA

), click on the menu icon in the top header, and click on the Exness terminal.

MetaTrader 4 or MetaTrader 5 Desktop Terminals

Download and install your chosen

MetaTrader 4

or

MetaTrader 5

platform on your desktop device, and log in with your Exness credentials.

MT4/MT5 WebTerminal

Sign in to the WebTerminal on our website with your account number, password, and server.

MetaTrader Mobile Terminals

Download and install the

MetaTrader 4

app or

MetaTrader 5

app on your phone and log in with your Exness credentials.

MT4 Multiterminal

Download and install the MT4 Multiterminal on your Windows desktop and log in with your trading account.
Note: If you open a MetaTrader 4 account, you won't be able to use MetaTrader 5 with your MT4 login and vice versa. If you want accounts for both MT4 and MT5, you'd have to open separate trading accounts for them.
3. Add your preferred trading instruments
We offer a variety of trading instruments including Forex, Commodities, Stocks, and Indices. On your chosen trading platform, you can add the instruments you want to trade. 
With Exness Terminal, add instruments by searching for an instrument in the search bar, and then selecting the instrument to bring up its chart and start watching.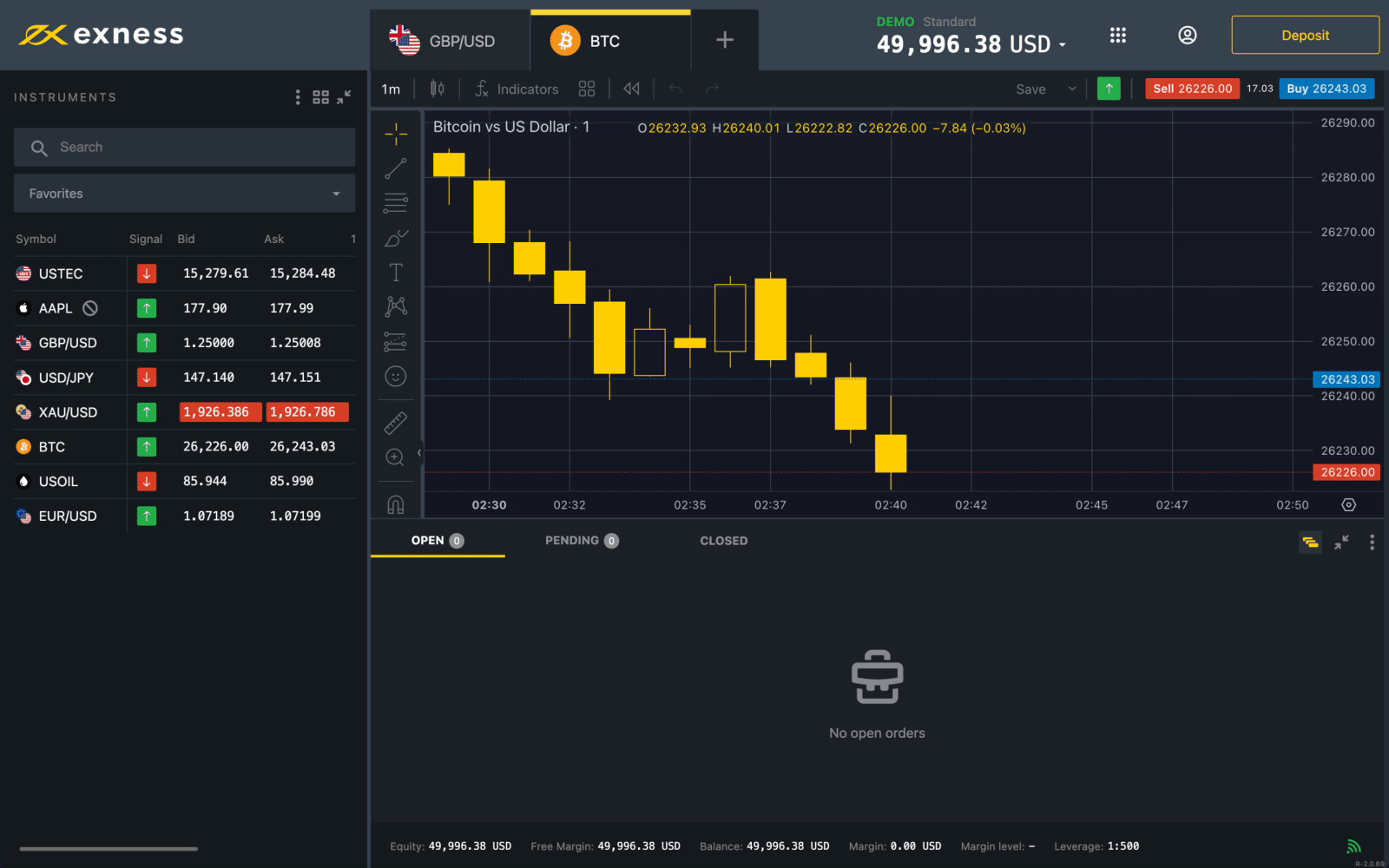 On the Exness Trade app, simply head to the Trade tab and select your instrument from the displayed list of instruments, or quickly search for them by entering the instrument on the search bar.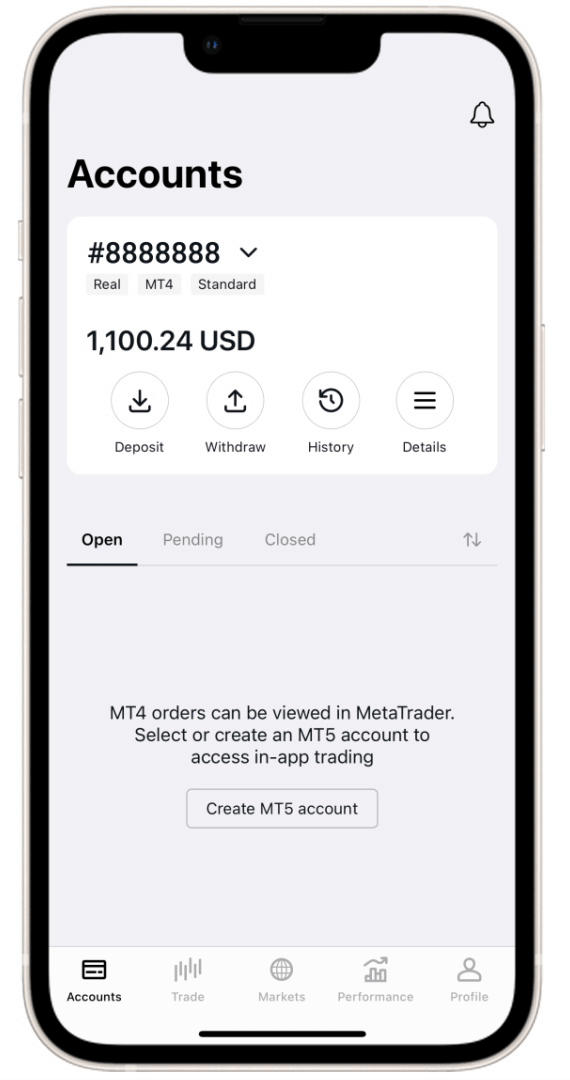 If you're trading with MetaTrader mobile and desktop platforms, you can add trading instruments to your Market Watch. Find out how to do this in the following articles:
How to use MetaTrader 4
How to use MetaTrader 5
How to use MetaTrader WebTerminal
How to use MT4 Multiterminal
4. Calculate margin
Margin is the reserved amount needed to open and maintain a leveraged trading position. To calculate the required margin for any instrument at any leverage, use the Investment Calculator. Read more on how to use the Investment Calculator.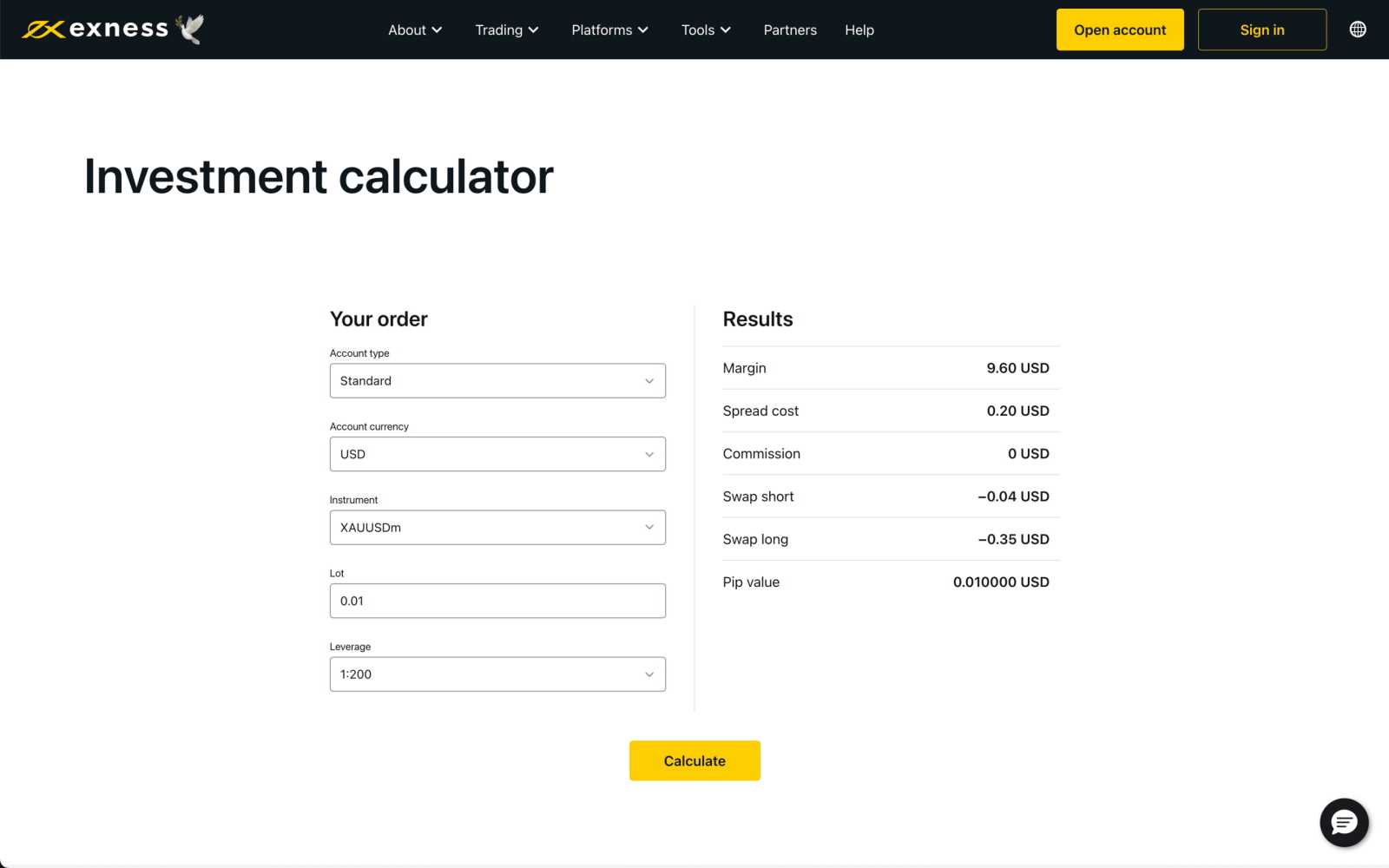 It is recommended to ensure that you have enough funds in your account to open and maintain a trade.
5. Check market hours
While trading on Exness is available 24/5*, It's essential to be aware of the market trading hours, instrument trading hours, summer/winter trading hours, and daily breaks before you trade.
Find out the market hours for each trading instrument in the following articles:
*Trading on some instruments like cryptocurrencies is available throughout the week, even during weekends. 
6. Start trading
You're now ready to start trading. Here are brief steps to open and close a trade using the Exness Terminal and Exness Trade app. 
Log in to the Exness Terminal now
Open and close a trade on Exness Terminal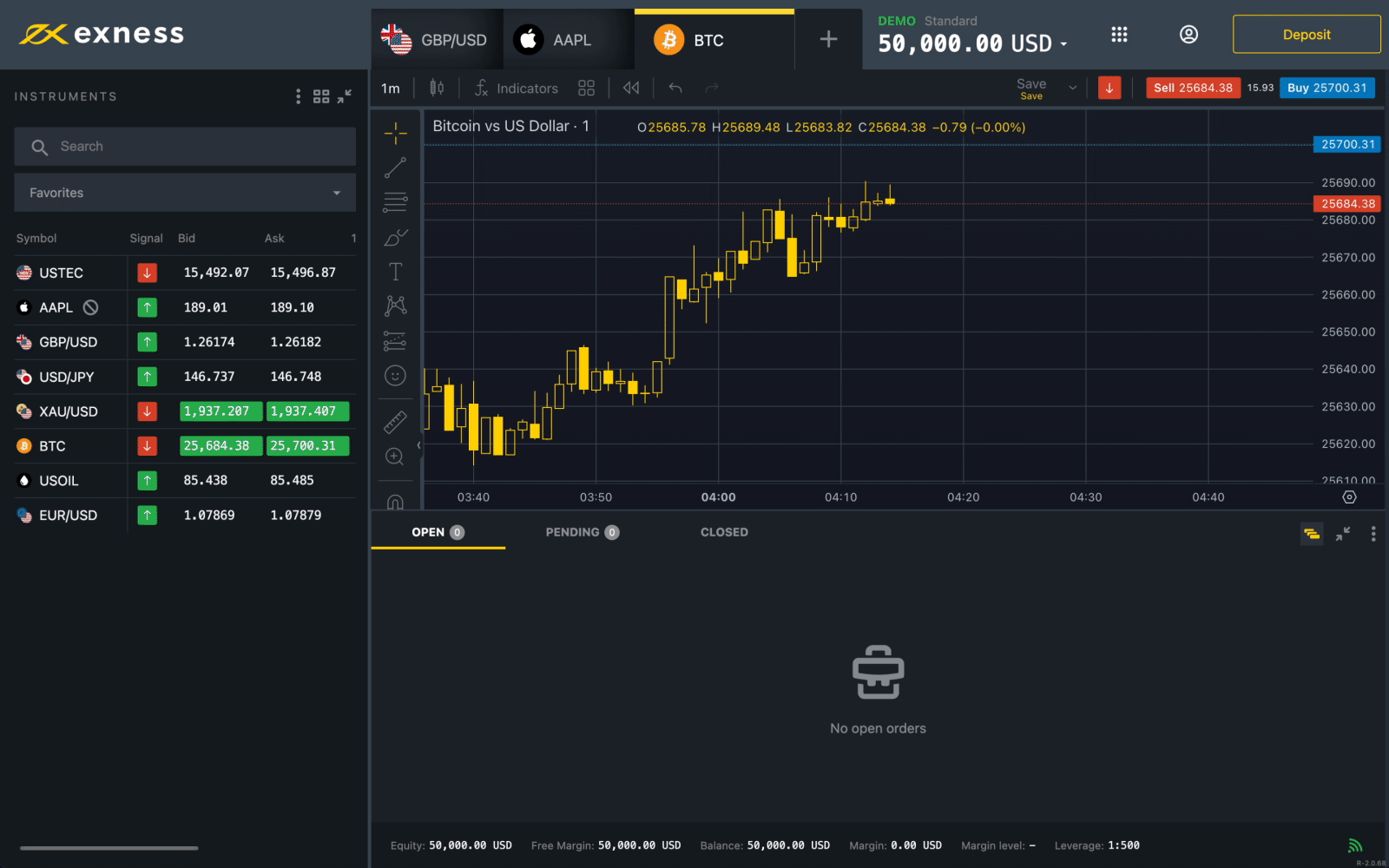 To open:
On the chart of your chosen instrument, click Sell or Buy. 
Set the order volume by lots, currency, or units. 

You can also set a pending order, take profit, and stop loss. 

Once done, click Confirm. 
To close:
Simply click the x icon on the order in the Portfolio tab. 
Open and close a trade on Exness Trade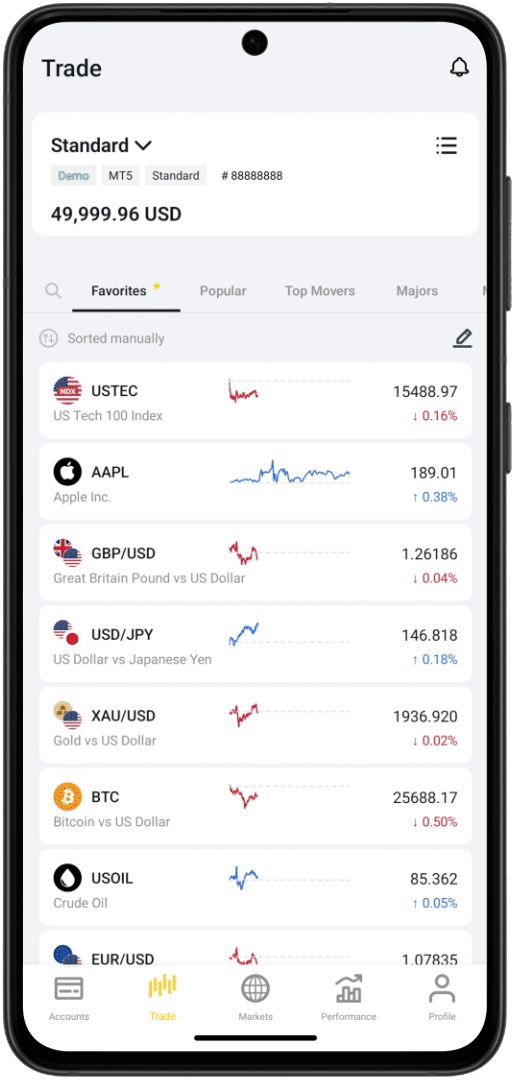 To open:
On the Trade tab, select your chosen instrument.
Tap Sell or Buy on the next screen.
Choose the number of lots, currency, or units and tap Confirm.
To close:
In the Accounts tab, locate the order you wish to close under the Open tab.
Tap the order you wish to close, and then tap Close order.
A confirmation pop-up will display the order's information; tap Confirm to close the order.
Here are some articles you may find useful during your trading journey:
What instruments can I trade with?
What is Exness VPS service?
What security features are offered for my Exness account?
How do I manage my trading account settings?
What should I know about swap-free accounts?
If you encounter any issues, refer to our troubleshooting guides to resolve them. Alternatively, you can always contact Support.