If Android is your mobile operating system of choice, then you're going to want to download the MetaTrader 5 platform for Android devices.
It's so easy, we'll show you how in a few quick steps:
Download, install and setup the MetaTrader 5 App
Everything you need to know about downloading, installing, and starting up MT5 for Android for the first time is presented in an easy-to-follow video tutorial:
Exploring the MT5 Android App

The special features of MT5 for Android

Account management
You can manage multiple trading accounts with MT5, though not at once. Follow the steps below to add more trading accounts to your app.
To add a trading account:
Open MetaTrader 5 and select Manage Accounts from the main menu.
Tap the + icon and enter Exness Technologies Ltd into the search then select it.
Enter your trading account's number, trading account password, and the correct server, then tap Login.
The trading account is added to the Accounts tab.
To switch the active trading account:
Open MetaTrader 5 and select Manage Accounts from the main menu.
Tap the trading account you wish to make active in the Accounts tab, enter the trading account's credentials if prompted, then Sign In.
MetaTrader 5 will now be logged in with that trading account.
Managing orders in MT5
Knowing how to manage orders in MT5 for Android is really core to its usage, with many important steps to remember. Read on to see the steps for various functions available in the MT5 for Android app.
To open an order:
Go to Quotes.
Tap the symbol you want to trade and then tap New Order.
Set your order parameters (i.e. Stop Loss, Take Profit, Deviation, etc.).
Tap Buy or Sell if you want to open a Market order.
To set a pending order, tap Instant Execution or Market Execution (based on your account type and trading instrument) to bring up a list of order types.
Choose one of the pending order types from the dropdown menu and set your order parameters (i.e. Price, Stop Loss, Take profit, etc.).
Tap Place.
You will then receive a notification that the order has been opened successfully.
To close or modify an order: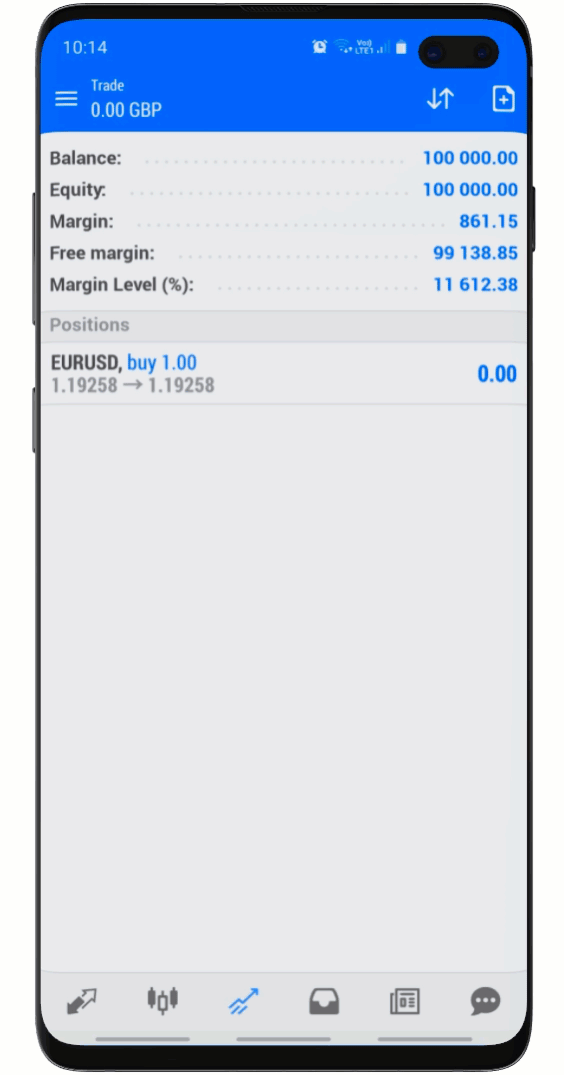 Go to Trade.
Tap an order to see its details (Price, S/L, T/P, order ID, etc.).
Press and hold the order, then tap either Modify position to modify or Close position
Tap Modify once modified or Close with Loss/Profit to confirm the appropriate action.
You will receive a notification when the order is closed.
How to add, remove, or reorder instruments:
It's really simple to add instruments to the Quotes tab.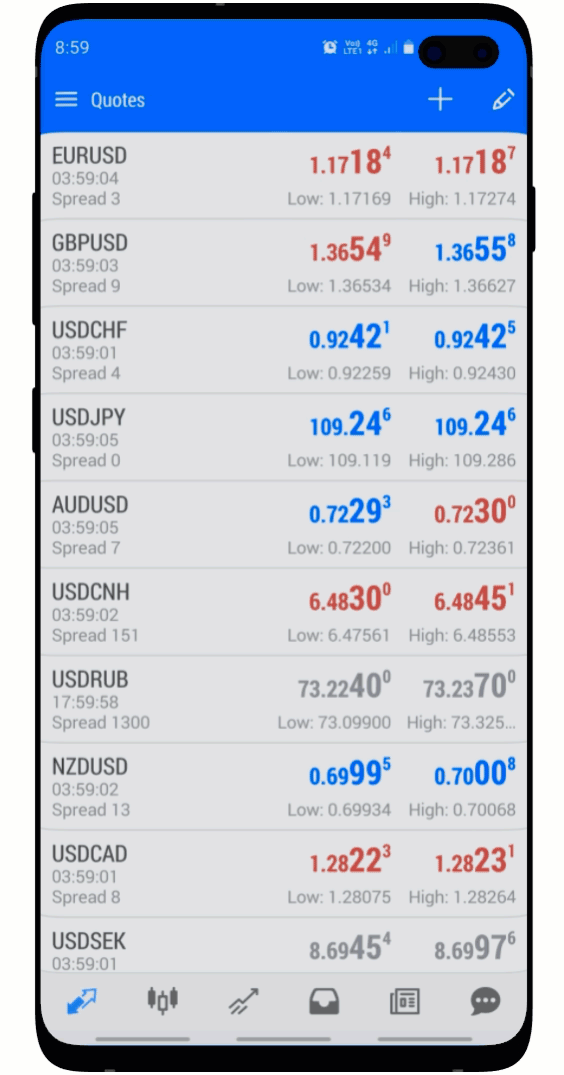 Click on Quotes.
Click on the + icon, and then locate the instrument from the groups presented.
Tap on any instruments you want to add, and they will be added to the list presented in Quotes.
To reorder instruments, tap the pencil icon to open the edit function where you can move instruments to reorder them
To remove instruments, tap the bin icon to activate the delete function where you can select all the instruments using the two tick icon, or tap on individual instruments to select them.
Tap the bin icon one more time to confirm the removal of the selected instruments.
Congratulations, now you can use your MT5 for Android mobile application with confidence.