Exness Trade is your one-stop solution to customized mobile trading for your Exness trading account. It combines all of the functionality of a trading terminal with a streamlined experience that will make you feel at ease trading anywhere, anytime.
Read more below to find out how you could download the Exness Trade and enjoy all its features while on the go.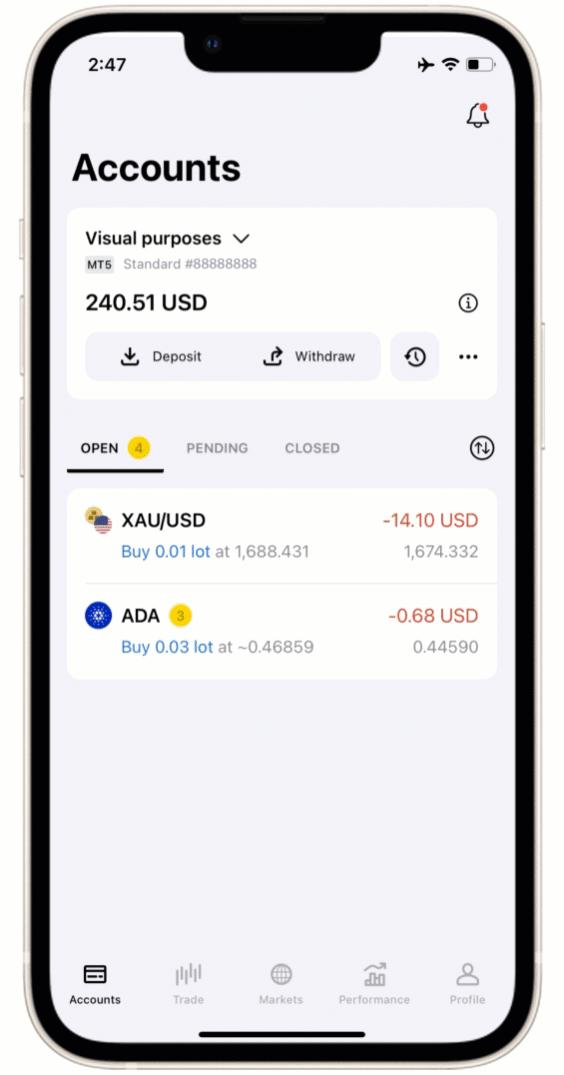 Downloading Exness Trade
It is available for both Android and iOS in the appropriate app store, or can be downloaded directly below:
Only iOS version 14.5 or later is supported, and it is recommended you always keep your Exness Trade app up to date.
If Exness Trade is unavailable on Google Play, you can install it on your Android device using an .APK file. Read more on how to install the Exness Trade app via .APK file.
If you intend on trading on MT4 accounts, you will need to download the MT4 mobile application from Google Play. You will be redirected to this app when you hit Trade on the Exness Trade app.
Exness Trade is used for MT5-based trading accounts when trading, though it can be used to create new MT4 trading accounts and manage them. If you intend to trade with an MT4 account, it is recommended that MT4 for mobile be used (available from Google Play or the App Store).
Exness Trade Guides
Using Exness Trade couldn't be simpler, with our series of in-depth guides for every step of the way.
Getting started with Exness Trade:
Using Exness Trade:
Trading with Exness Trade:
Account management with Exness Trade:
Exness Trade functionality:
Exness Trade FAQs:
If you have any trouble with Exness Trade, head to Exness Trade Troubleshooting for a selection of common topics that may help you.
Note: The Exness Trade application may not be available in some countries both on Google Play and App Store. If you need further assistance you may contact the Exness Support team.